4-Season Service
Full Vessel Winterization
Essex Marina takes the guess work out of winterizing your vessels systems. We thoroughly go through all of your vessels systems to ensure they will be ready to use in the spring issue free.

Fall/Spring Fluid Changes
Mechanical system fluid inspections, changes, and levels are by far one of the most important maintenance items on any boat owners list. We thoroughly go through, by owner request, the boat's systems and verify everything is as it should be to keep the systems running as they should to reduce wear.

System Commissioning
We always advise the boat's owner to have us commission all the systems in the spring to make sure they are safe and in working order. This is a service to use if you are not completely familiar with all of the boats system. This gives a piece of mind to you that when you are ready to use these systems, they are plug and play.

Shrink Wrapping
Keeping your boat safe and protected over the winter starts with a reliable and damage negated shrink wrap job. Essex Marina's in house shrink wrap team individually plans every boat to make sure that under normal winter conditions, your boat will be exactly as you left it in the fall. 

Dry and Wet Storage
Essex Marina provides a first come, first serve oriented winter storage program that allows you to keep your boat on dry land or in a protected slip. If you plan on keeping your boat in the water year-round, ice-eaters can be rented.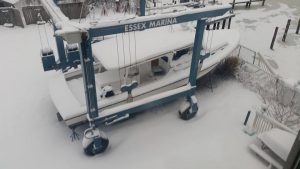 Boat Transportation Prep
Essex Marina works with the boat transportation company closely to help them get to traffic standards to transport your boat over dry land.